黄葵Abelmoschus moschatus
中文名(Chinese Name):黄葵
学名(Scientific Name):
Abelmoschus moschatus Medik.
英文名(English Common Name):
musk okra
别名(Chinese Common Name):
山芙蓉、芙蓉麻
异名(Synonym):
Bamia chinensis Wall. Abelmoschus moschatus var. betulifolius (Masters) Hochreutiner Hibiscus abelmoschus var. betulifolius Masters Abelmoschus abelmoschus (L.) H.Karst. Abelmoschus betulifolia Wall. Abelmoschus chinensis Wall. Abelmoschus ciliaris Walp. Abelmoschus cryptocarpus Walp. Abelmoschus cubensis Walp. Abelmoschus cucurbitaceus Walp. Abelmoschus haenkeanus C.Presl Abelmoschus marianus C.Presl Abelmoschus moschatus var. haenkeanus (C.Presl) Merr. Abelmoschus moschatus var. lanyunatus S.S.Ying Abelmoschus palustris Walp. Abelmoschus pseudoabelmoschus (Blume) Walp. Abelmoschus roseus Walp. Abelmoschus sublobatus C.Presl Hibiscus abelmoschus var. genuinus Hochr. Hibiscus amambayensis Krapov. & Fryxell Hibiscus ciliaris C.Presl Hibiscus collinsianus Nutt. ex Torr. & A. Gray Hibiscus cucurbitaceus var. acuminatus Hassl. Hibiscus cucurbitaceus A.St.-Hil. Hibiscus flavescens Cav. Hibiscus haenkeanus Fern.-Vill. Hibiscus moschatus (Medik.) Salisb. Hibiscus pseudabelmoschus Blume Hibiscus roxburghii Steud. Hibiscus sublobatus Hochr.
科属(Family & Genus):
锦葵科(Malvaceae)秋葵属
形态特征(Description):
一年生或二年生草本,高1-2米,被粗毛。叶通常掌状5-7深裂,直径6-15厘米,裂片披针形至三角形,边缘具不规则锯齿,偶有浅裂似械叶状,基部心形,两面均疏被硬毛;叶柄长7-15厘米,疏被硬毛;托叶线形,长7-8毫米。花单生于叶腋间,花梗长2-3厘米,被倒硬毛;小苞片8-10,线形,长10-13毫米;花萼佛焰苞状,长2-3厘米,5裂,常早落;花黄色,内面基部暗紫色,直径7-12厘米;雄蕊柱长约2.5厘米,平滑无毛;花柱分枝5,柱头盘状。蒴果长圆形,长5-6厘米,顶端尖,被黄色长硬毛;种子肾形,具腺状脉纹,具 香味。花期6-110月。
分布(Distribution):
我国台湾、广东、广西、江西、湖南和云南等省区栽培或野生。常生于平原、山谷、溪涧旁或山坡灌丛中。越南、老挝、柬埔寨、泰国和印度也有。
用途(Use):
种子具 香味,用水蒸汽蒸溜法可提制芳香油,含油率约0.3-0.5%,是名贵的高级调香料;也可入药。根含粘质,供制棉纸的糊料。本种花大色艳,可供园林观赏用。
引自中国植物志英文版:
FOC Vol. 12 Page 284, 285
Abelmoschus moschatus Medikus, Malvenfam. 46. 1787.
黄葵 huang kui | Malvaceae | Abelmoschus
Hibiscus abelmoschus Linnaeus, Sp. Pl. 1: 696. 1753; Abelmoschus moschatus var. betulifolius (Masters) Hochreutiner; H. abelmoschus var. betulifolius Masters; H. chinensis Roxburgh ex Masters.
Herbs annual or perennial, (0.25-)1-2 m tall, most parts uniformly yellow hispid/setose, rarely glabrous or also pale pubescent, taproot tapered, not swollen. Stipules filiform, 7-8 mm; petiole 7-15 cm, sometimes densely pubescent along adaxial groove; leaf blade 6-15 cm in diam., very variable in form, usually palmately (3-)5-7-lobed, lobes lanceolate to triangular; blades on distal part of stem narrower, both surfaces sparsely hirsute, base cordate, margin irregularly serrate. Flowers solitary, axillary. Pedicel 2-3 cm, hirsute. Epicalyx lobes 6-10, linear to narrowly oblong, (8-)10-13 × 1.5-2 mm, incurved, appressed to capsule. Calyx spatulate, much longer than epicalyx, 2-3 cm, 5-parted, usually caducous, uniformly densely pubescent. Corolla 7-12 cm in diam., yellow with dark purple center; petals obovate. Staminal column ca. 2.5 cm, glabrous. Ovary hairy; style hairy, branches 5; stigma disk-shaped. Capsule oblong, 5-6 cm, apex acute, uniformly yellow hirsute. Seeds black-brown, reniform, concentrically ribbed, glandular-reticulate, with musk smell. Fl. Jun-Oct.
Scrub on slopes, valleys, streamsides, flat areas. Guangdong, Guangxi, Hunan, Jiangxi, Taiwan, Yunnan [Cambodia, India, Laos, Thailand, Vietnam].
Oil from the seed is economically valuable. Borssum Waalkes recognized three SubSpe within Abelmoschus moschatus, one of which, subsp. tuberosus, is here included within A. sagittifolius. The Chinese material belongs to subsp. moschatus while the third SubSpe, subsp. biakensis, is restricted to New Guinea.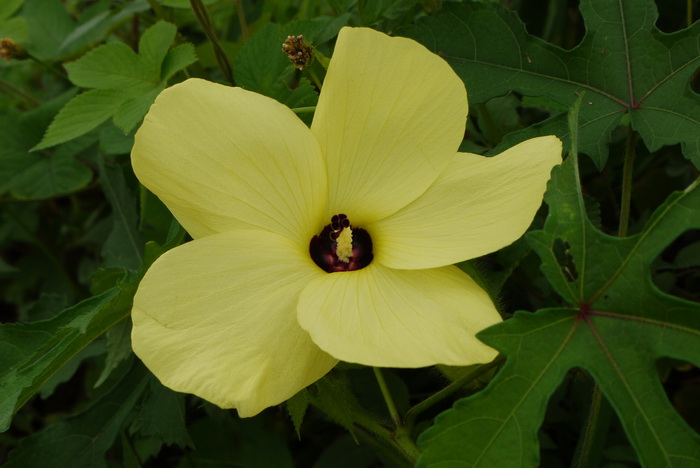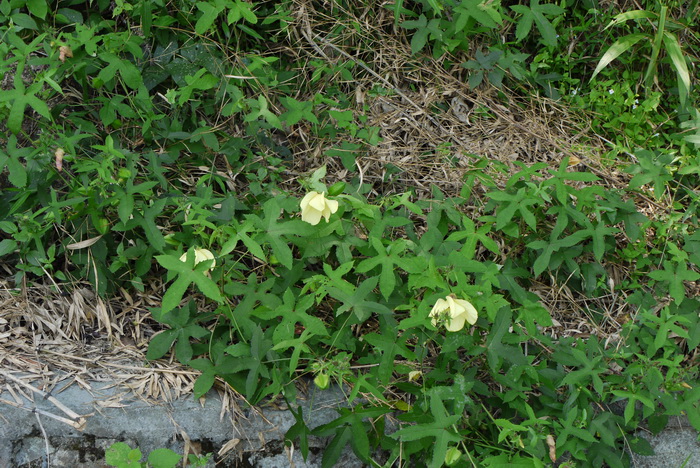 (责任编辑:徐晔春)