大果油麻藤Mucuna macrocarpa
中文名(Chinese Name):大果油麻藤
学名(Scientific Name):
Mucuna macrocarpa Wall.
英文名(English Common Name):
别名(Chinese Common Name):
血藤、青山笼
异名(Synonym):
Mucuna collettii Lace Mucuna subferruginea Hayata Mucuna castanea Merr. Mucuna ferruginea Matsum. Mucuna wangii Hu Mucuna ferruginea var. bungoensis (Ohwi) Ohwi Mucuna ferruginea var. irukanda (Ohwi) Ohwi Mucuna irukanda Ohwi Mucuna irukanda var. bungoensis Ohwi Mucuna subferrunginea Hayata Mucuna colletii Lace
科属(Family & Genus):
蝶形花科,Fabaceae黧豆属
形态特征(Description):
大型木质藤本。茎具纵棱脊和褐色皮孔,被伏贴灰白色或红褐色细毛,尤以节上为密,老茎常光秃无毛。羽状复叶具3小叶,叶长25-33厘米;托叶脱落;叶柄长8-13(-15)厘米;叶轴长2-4.5厘米,小叶纸质或革质,顶生小叶椭圆形、卵状椭圆形、卵形或稍倒卵形,长10-19厘米,宽5-10厘米,先端急尖或圆,具短尖头,很少微缺,基部圆或稍微楔形;侧生小叶极偏斜,长10.5-17厘米;上面无毛或被灰白色或带红色伏贴短毛,在脉上和嫩叶上常较密;侧脉每边5-6;小托叶长5毫米。花序通常生在老茎上,长5-23厘米,有5-12节;花多聚生于顶部,每节有2-3花,常有恶臭;花梗长8-10毫米,密被伏贴的淡褐色或深褐色短毛和稀疏深褐色或红褐色细刚毛;苞片和小苞片脱落;花萼密被伏贴的深褐色或淡褐色短毛和灰白或红褐色脱落的刚毛,花萼宽杯形,长8-12毫米,宽12-20毫米,2侧齿长3-4毫米,最下齿长5-6毫米;花冠暗紫色,但旗瓣带绿白色,旗瓣长3-3.5厘米,先端圆,基部的耳很小,长约1毫米,翼瓣长4-5.2厘米,宽1.5-1.7厘米,瓣柄长5-7毫米,耳长3-5毫米,龙骨瓣长5-6.3厘米,瓣柄长8-10毫米,耳长1-3毫米;雄蕊管长4.5-5.5厘米。果木质,带形,长26-45厘米,宽3-5厘米,厚7-10毫米,近念珠状,直或稍微弯曲,密被直立红褐色细短毛,部分近于无毛,具不规则的脊和皱纹,具6-12颗种子,内部隔膜木质,厚1-5毫米,边缘加厚,无沟槽,与边缘相平行处常具不规则木质脊,但沿背腹缝线边缘无圆形的坚硬凸起;种子黑色,盘状,但稍不对称,两面平,长2.2-3厘米,宽1.8-2.8厘米,厚5-10毫米,种脐围绕种子周围的3/4或更多,暗褐色或黑色。花期4-5月,果期6-7月。
分布(Distribution):
用途(Use):引自植物志英文版:
FOC Vol. 10 Page 207, 208, 210,211, 212, 215FOC | Family Mucuna macrocarpa Wallich, Pl. Asiat. Rar. 1: 41. 1830.
大果油麻藤 da guo you ma teng| Fabaceae | Mucuna
Mucuna castanea Merrill; M. collettii Lace; M. ferruginea Matsumura; M. ferruginea var. bungoensis (Ohwi) Ohwi; M. ferruginea var. irukanda (Ohwi) Ohwi; M. irukanda Ohwi; M. irukanda var. bungoensis Ohwi; M. subferruginea Hayata; M. wangii Hu.
Large woody vines. Young stems usually with abundant fine brown adpressed or spreading hairs, later usually glabrous. Leaves 25-33 cm; petiole 8-13(-15) cm, usually hairy like stem; stipels usually not persistent even on young leaves but occasionally present, robust, 2-5 mm; leaflets papery or leath­ery, glabrous or with abundant light brown or reddish adpressed or spreading hairs especially on veins, lateral veins (3 or)4-6(or 7) pairs, gently curved; terminal leaflet ovate, elliptic, or slightly obovate, (7-)10-19 × (3-)5-10 cm, base rounded or slightly cuneate, apex broadly acute or shortly acuminate; lateral leaf­lets 10.5-17 cm, width ratio of abaxial to adaxial halves 2:1, base of abaxial half truncate. Inflorescence usually arising from old stems, 5-23 cm, with 5-17 nodes usually spaced throughout most of length; pedicels 8-10 mm, with dense minute brown spreading hairs and sparse fine bristles; bracts and bracteoles ovate, bracteoles 2-5 mm, shorter than calyx, caducous. Calyx with dense minute spreading hairs and pale caducous bristles; tube 8-12 × 12-20 mm; lateral lobes 3-4 mm, lowest 5-6 mm. Corolla bicolored, standard greenish or pinkish white, wings deep purple, keel lighter purple or sometimes yellowish green; flowers occasionally large with standard, wings, and keel up to respectively 4.5 cm, 6 cm, and 7 cm, but usually shorter: stan­dard 3-3.5 cm, apex with margin conspicuously brown pubes­cent in apical 1/4-1/3; wings 4-5.2(-5.6) × 1.5-1.7 cm, margin around apex pubescent like standard; keel 5-6.3 cm. Legume linear, straight or slightly curved, 26-48 × 3-5 cm, 7-10 mm thick, woody, with margins often markedly constricted between seeds, base without narrow neck, with dense minute spreading hairs or partly glabrous with age, with irregular ribs and wrinkles, interior septum woody, 1-5 mm thick, margins not distinctly thickened and without median groove along suture but often with irregular woody ribs closely parallel to margin, apex acute. Seeds 6-15, dull black, disk-shaped, slightly asym­metric, laterally flattened, 2.2-3 × 1.8-2.8 cm, 5-10 mm thick; hilum deep brown or black, length ca. 3/4 of seed circumfer­ence or more. Fl. Nov-May, fr. Apr-Nov.
Evergreen or deciduous montane or riverine forests, open shrubs, dry sandy lands; 800-3000 m. Guangdong, Guangxi, Guizhou, Hainan, Taiwan, Yunnan [Bhutan, India, Japan, Laos, Myanmar, Nepal, Thai­land, Vietnam].
Mucuna macrocarpa is distinctive in its leaves usually without persistent stipels, flowers usually bicolored with conspicuously pubes­cent petal margins at apex, and legume large and linear with thickened but unwinged margin. It is often confused in fruit with M. sempervirens, which differs by its indumentum sparse, pale; flowers not pubescent at their apex; and fruit with finer, more regular, reticulate surface pat­terning and a distinct rounded margin along both sutures. Mucuna bo­dinieri also has similar flowers and fruit but differs markedly by its rounded leaflets with dense pale indumentum. Large-flowered forms of M. macrocarpa with persistent stipels can be confused in flower with M. macrobotrys, which is distinguished by the uniformly purple corolla, wings often relatively broader, and standard often shorter relative to keel. Mucuna "sp. B" of Wilmot-Dear (Kew Bull. 39: 39. 1984) is a variant of M. macrocarpa.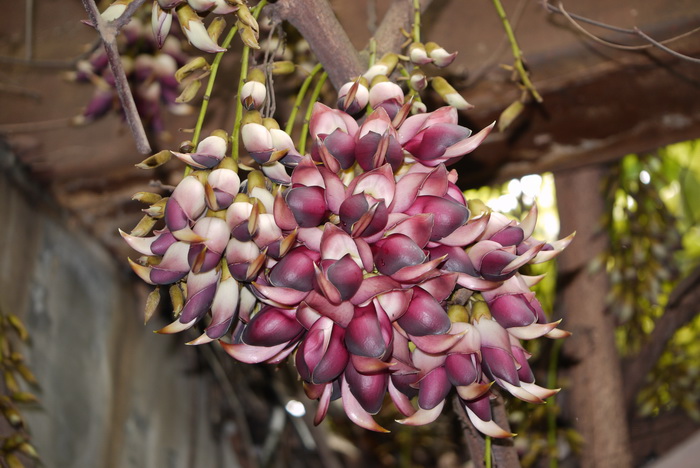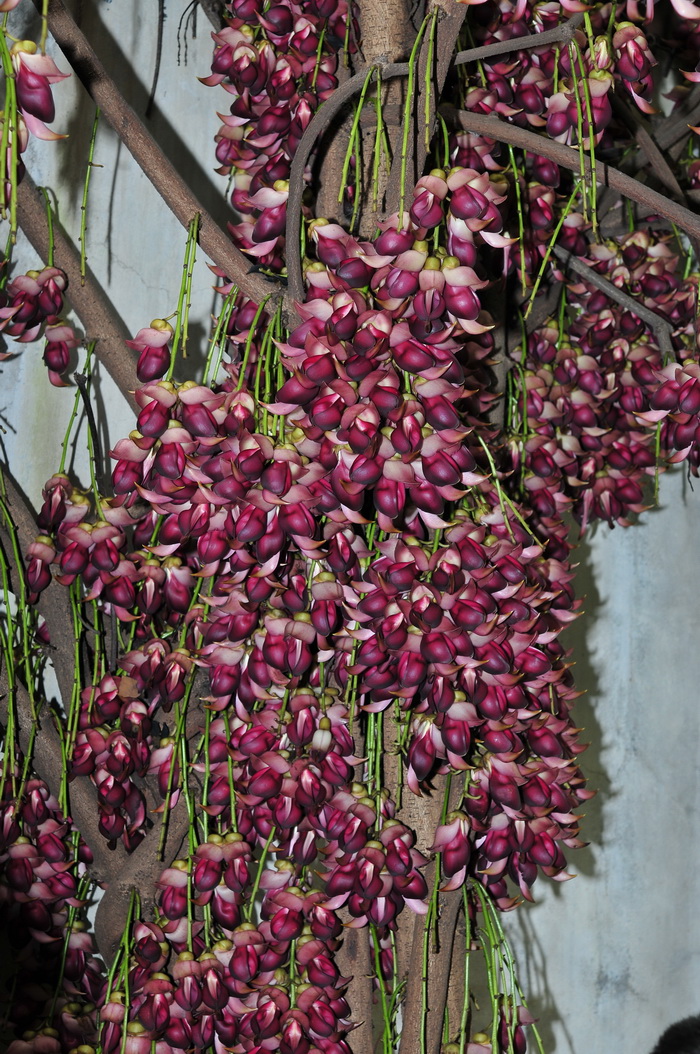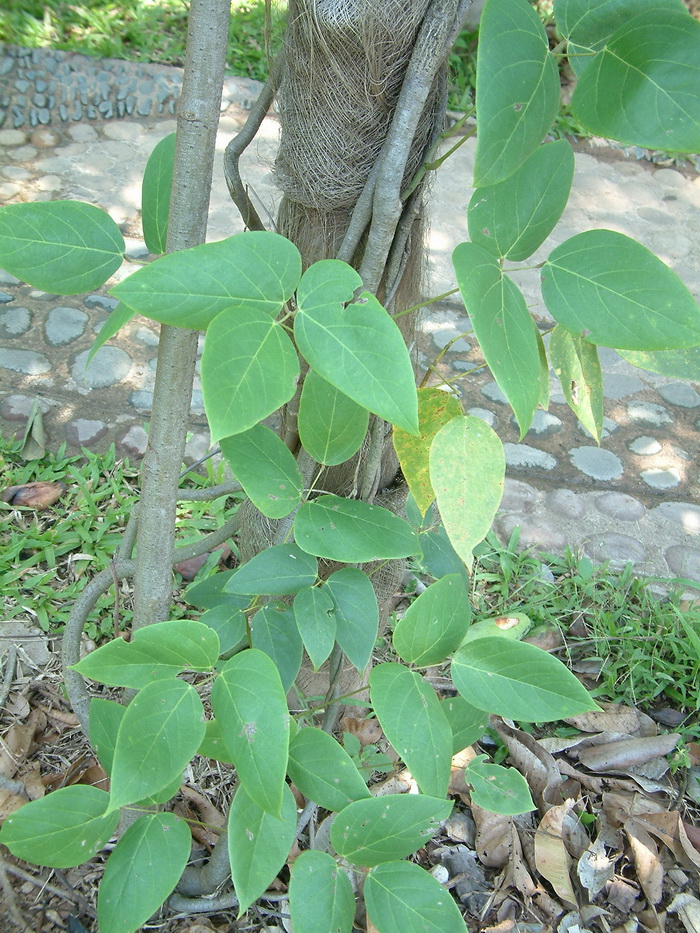 (责任编辑:徐晔春)