尖叶杜英Elaeocarpus rugosus
中文名(Chinese Name):尖叶杜英
学名(Scientific Name):
Elaeocarpus rugosus
Roxb.
英文名(English Common Name):
别名(Chinese Common Name):
长芒杜英、毛果杜英
异名(Synonym):
Elaeocarpus apiculatus Masters Elaeocarpus kunstleri King Elaeocarpus aristatus Roxb. Elaeocarpus grandifolius Kurz Monocera aristata Jack Monocera roxburghii Wight Monocera rugosa Wight Terminalia sharmae M.Gangop. & Chakrab.
科属(Family & Genus):
杜英科杜英属
形态特征(Description):
乔木,高达30m,树皮灰色;小枝粗壮。叶聚生于枝顶,革质,倒卵状披针形,先端钝,偶有短小尖头,中部以下渐变狭窄,基部窄而钝,或为窄圆形。总状花序生于枝顶叶腋内,有花5-14朵,萼片6片,狭窄披针形,花瓣倒披针形,内外两面被银灰色长毛,先端7-8裂。核果椭圆形,有褐色茸毛。花期7-9月,10-11月果熟。
分布(Distribution):
产云南、广东和海南,生于低海拔的山谷中。中南半岛及马来西亚也有。
用途(Use):
引自中国植物志英文版
FOC Vol. 12 Page 223, 226
Elaeocarpus rugosus Roxburgh, Fl. Ind., ed. 1832. 2: 596. 1832.
毛果杜英 mao guo du ying | Elaeocarpaceae | Elaeocarpus
Trees to 30 m tall, to 2 m d.b.h. Bark gray; branchlets robust, 6-12 mm in diam., rust-brown puberulent, with conspicuous leaf and infructescence scars. Leaves fascicled or clustered at twig apices; petiole 1-2.6 cm, rust-colored puberulent at first, glabrescent, swollen at base; leaf blade obovate-lanceolate, obovate, or obovate-elliptic, (14-)18-30(-45) × 6-11(-16) cm, leathery or thinly so, abaxially very sparsely pilose on midvein, adaxially puberulent on midvein only, lateral veins 16-18 per side, prominently raised abaxially, prominent adaxially, veinlets prominently raised abaxially, conspicuous adaxially, base cuneate, margin sparsely shallowly crenate, apex shortly acute, rounded, or emarginate. Racemes in axils of fallen and current leaves, dense, 4-12 cm, 8-10-flowered; peduncles rust-colored tomentose. Pedicel 0.9-1.8 cm, rust-colored tomentose. Flowers large; buds 1-1.4 cm. Sepals 5 or 6, 1.2-1.5 cm, abaxially pubescent, adaxially glabrous. Petals 5 or 6, 1.3-1.5 cm × ca. 8 mm, laciniate; lobes 15-20, abaxially densely rust-colored tomentose, adaxially tomentose, margin ciliate. Stamens 45-51; filaments 2-2.5 mm; anthers 3.5-4 mm, with awn 4-4.5 mm. Disk 5-lobed, pubescent. Ovary tomentose, 2-loculed; ovules numerous in each locule; style slightly longer than stamens, pubescent in lower part. Drupe ellipsoid, ca. 3.5 × 2-2.5 cm, tomentose; endocarp conspicuously verrucate, 1-loculed. Seed 1. Fl. Mar, fr. May-Aug.
Evergreen forests in valleys; 500-800 m. Hainan, S Yunnan [India, Malaysia, Myanmar, Thailand].
This species was misidentified in FRPS (49(1): 10. 1989) as Elaeocarpus apiculatus Masters.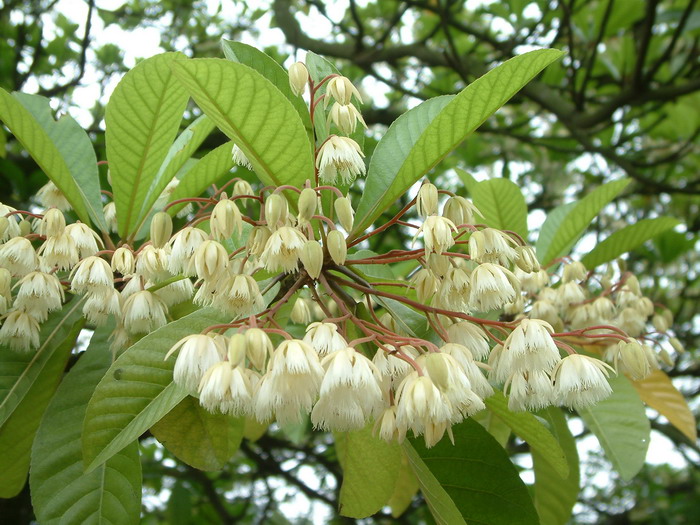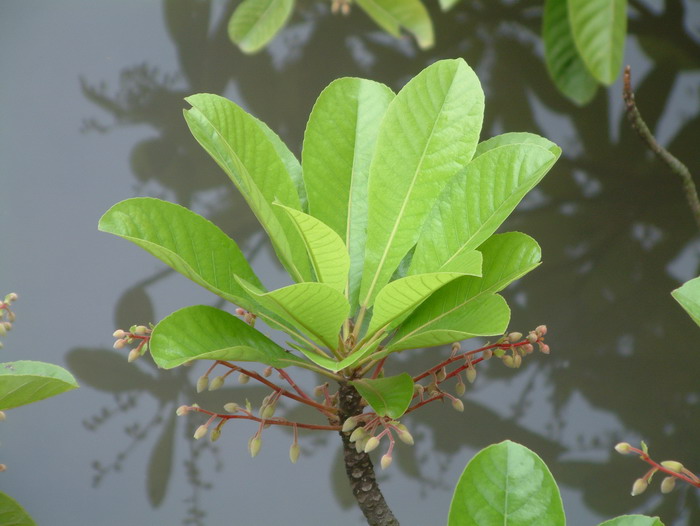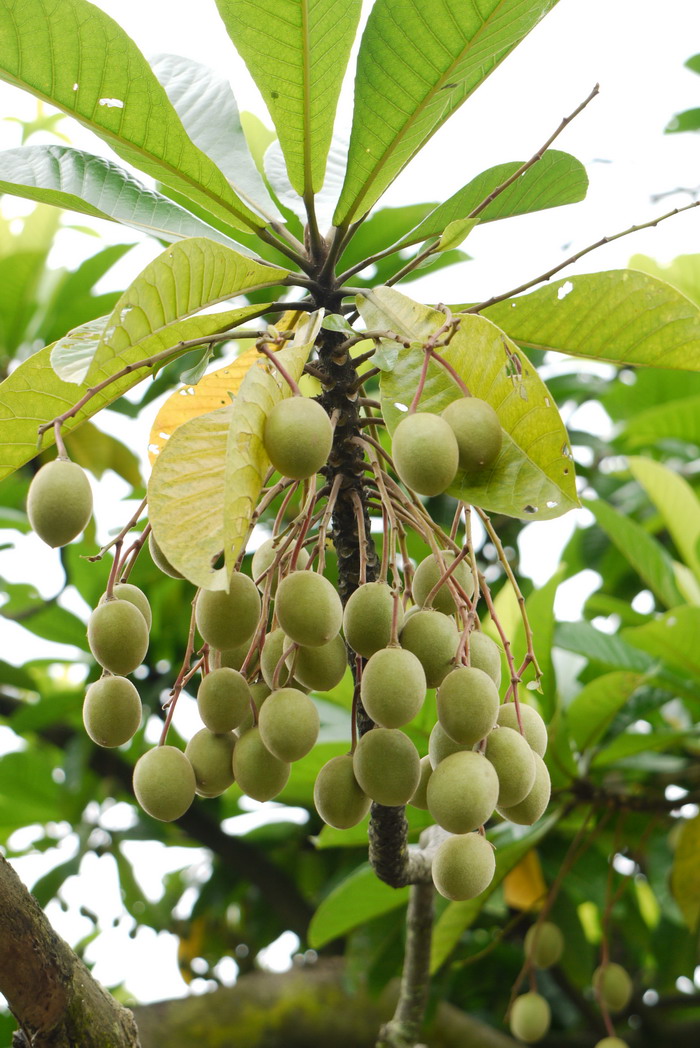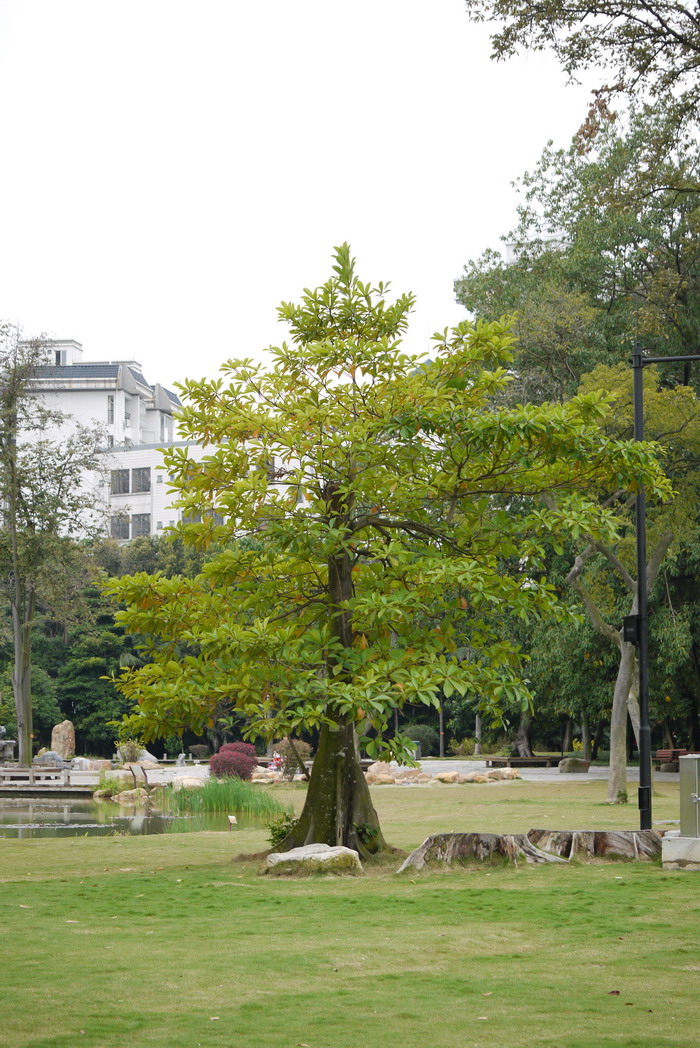 (责任编辑:徐晔春)