陆均松Dacrydium pectinatum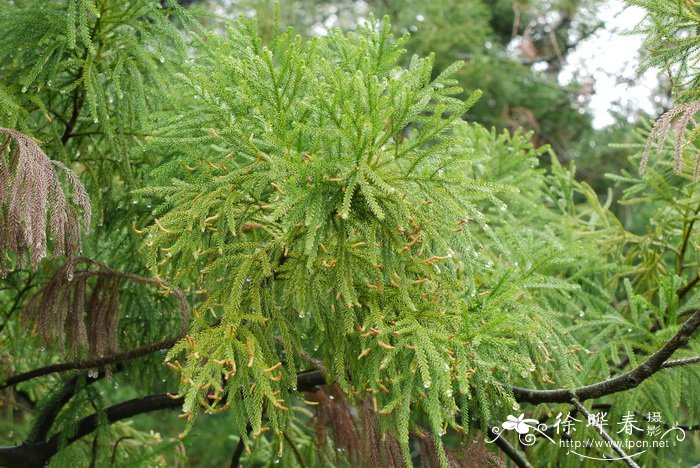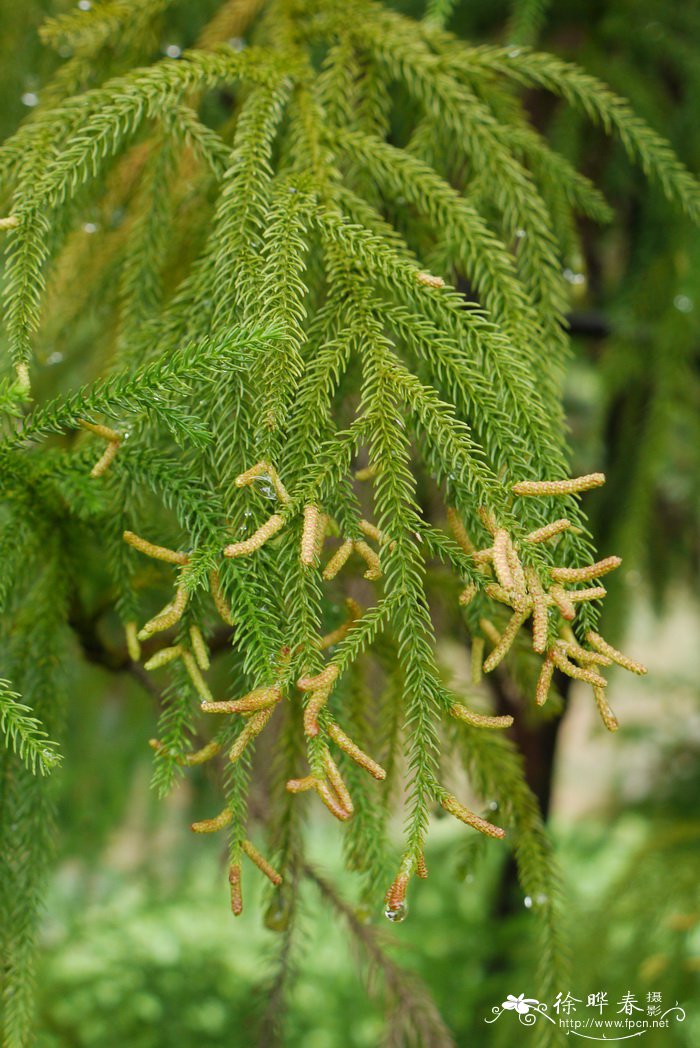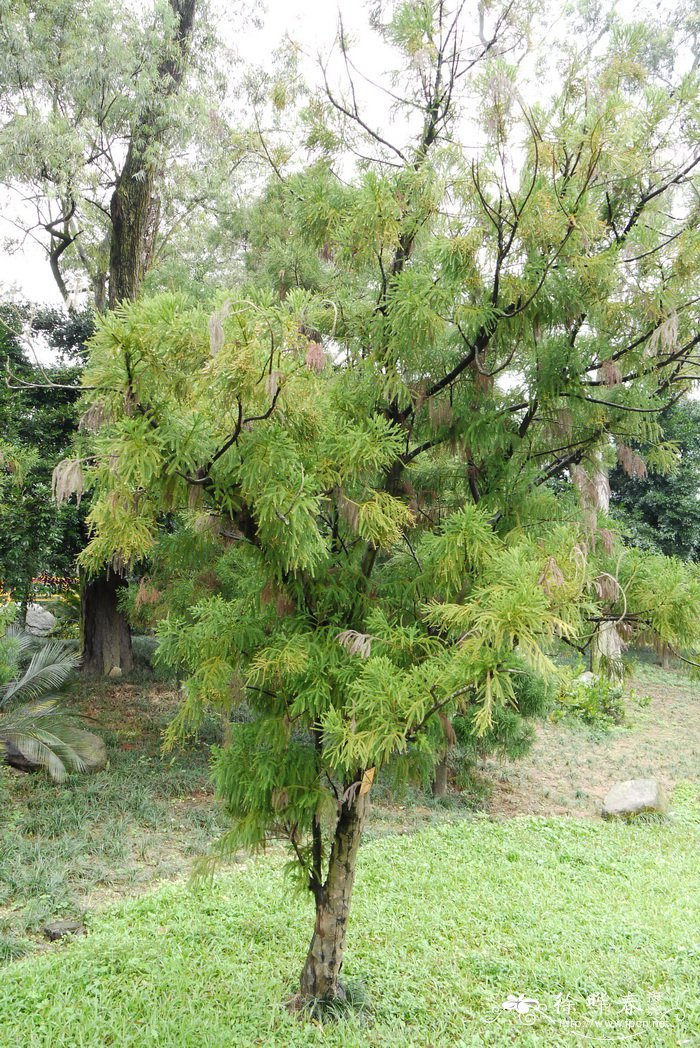 中文名(Chinese Name):陆均松
学名(Scientific Name):
Dacrydium pectinatum
de Laubenf.
英文名(English Common Name):
别名(Chinese Common Name):
卧子松
异名(Synonym):
Dacrydium pierrei Hickel;Dacrydium pectinatum var. robustum de Laub.;Corneria pectinata (de Laub.) A.V.Bobrov & Melikyan
科属(Family & Genus):
罗汉松科(Podocarpaceae)陆均松属
形态特征(Description):
乔木,高达30米,胸径达1.5米;树干直,树皮幼时灰白色或淡褐色,老则变为灰褐色或红褐色,稍粗糙,有浅裂纹;大枝轮生,多分枝;小枝下垂,绿色。叶二型,螺旋状排列,紧密,微具四棱,基部下延;幼树、萌生枝或营养枝上之叶较长,镰状针形,长1.5-2厘米,稍弯曲,先端渐尖;老树或果枝之叶较短,钻形或鳞片状,长3-5毫米,有显著的背脊,先端钝尖向内弯曲。雄球花穗状,长8-11毫米;雌球花单生枝顶,无梗。种子卵圆形,长4-5毫米,径约3毫米,先端钝,横生于较薄而干的杯状假种皮中,成熟时红色或褐红色,无梗。花期3月,种子10-11月成熟。
分布(Distribution):
产广东海南岛五指山、吊罗山、尖峰岭等高山中上部海拔500-1600米地带。常与针叶树阔叶树种混生成林或成块状纯林。越南、柬埔寨、泰国亦有分布。
用途(Use):
可供建筑及造船等用材,亦可作热带地区的庭园植物。也是海南岛高山中上部森林更新和荒山造林的重要树种。
引自中国植物志英文版
FOC Vol. 4
Dacrydium pectinatum de Laubenfels, J. Arnold Arbor. 50: 289. 1969.
陆均松 lu jun song | Podocarpaceae | Dacrydium
Trees to 30 m tall; trunk to 3 m d.b.h.; bark grayish white or pale brown when young, finally gray-brown or red-brown, shallowly fissured; main branches whorled; branchlets drooping, green. Juvenile leaves changing gradually to adult state, needlelike, falcately curved forward, 1.5-2 cm × ca. 0.4 mm, apex tapered. Adult leaves dull green, scalelike, "S"-shaped-linear, 4-angled, 2-5 × 0.4-0.6 mm, stomatal rows (2 or)3-5 per surface, with remote, indistinct, stomatal dots, base decurrent, apex obliquely apiculate or obtuse and incurved. Pollen cones in clusters of 1-3, cylindric-ovoid, 0.8-1.2 cm × 1.5-2 mm; microsporophylls ovate, ca. 1 × 1 mm, centrally keeled, apex subacute. Seed-bearing structures sessile; bracts oblique, not fleshy. Epimatium red and fleshy when ripe. Seed ovoid, 4.5-5 × ca. 3 mm. Pollination Mar-May, seed maturity (Jun-) Oct-Nov.
Coniferous, broad-leaved, and mixed tropical montane forests on montane yellow-earth or red-earth soils on sunny, gently sloping ridges; (300-)600-1200(-2100) m. Hainan [Indonesia (Borneo and nearby islands), Philippines]
A vulnerable species in China, formerly dominant in forests in Hainan but excessively logged for more than 20 years. The wood is used in constructing buildings and ships.
Treated in FRPS as Dacrydium pierrei Hickel, a synonym of D. elatum (Roxburgh) Wallich ex Hooker (London J. Bot. 2: 144. 1843) which occurs in Cambodia, Indonesia (Sumatra), Laos, Malaysia, Myanmar, Thailand, and Vietnam. Dacrydium elatum was also recorded from China (Guangxi province) by Z. Z. Mao (in S. K. Lee & C. F. Liang, Fl. Guangxi 1: 60. 1991, as D. pierrei), but it is uncertain to which species this record refers because the accompanying illustration (pl. 23, f. 8-16) is a mixture of D. elatum and D. pectinatum. Dacrydium elatum has adult leaves imbricate, scalelike, to 1.5 mm (as in f. 12), showing an abrupt change from juvenile leaves, whereas D. pectinatum has adult leaves linear, quadrangular in cross section, 2-5 mm (as in f. 8), gradually changing from juvenile leaves.
(责任编辑:徐晔春)